Import/Export Containerized Shipping Agency Service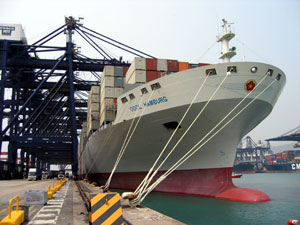 Dyna Shipping is a Licensed Shipping Agency in China. Over a decade of dedication, we have established an import/export containerized shipping overseas agency network covering major ports worldwide and inland cities of China. We have signed cargo forwarding agent and shipping space booking contracts with a number of well-known shipping companies, such as Mediterranean Shipping Company, Evergreen Marine Corporation, MOL, and American President Lines. We provide shipping space booking, import/export containerized shipping services from/to major ports around the world, signing of bill of lading, settlement of charges, customs declaration, clearance, short haul transportation, warehousing, railway transportation, air freight service and other logistic services.
Containerized shipping services are Dyna¡¯s major businesses. With well experienced customer service representatives and business personnel, we provide tailor-made and best shipping choice for customers, advice them on the prevention of risks during import/export, the way to overcome difficulties. At the same time, we ensure quality services, reasonable charges, with safe and efficient shipments to meet the needs of customers.